The NEW 78th EDITION of Signpost, the UK's longest established guide to the country's premier hotels, is now available.
Here at Signpost we've been recommending the UK's finest hotels since 1935. We use our expert knowledge and experience to bring you truly special places to stay, from small hotels with cosy bedrooms and log fires to boutique townhouses and luxury country house hotels in beautiful grounds. Every Signpost hotel has been selected for its style, comfort, fabulous food, location and of course the warmest of welcomes. Our team inspect every hotel so that you can book with confidence and rest assured that your stay will meet our very high standards.
The bistro restaurant has everything you would expect, inventive food alongside classics such as the delightful fish and chips, a buzzing but relaxed atmosphere and wonderful service from a friendly and professional team.
England's Small Hotel of the Year, family owned and run since 1988, is a member of Relais & Chateaux. There are no weddings, conferences or children under 7 to disturb the peace, just warm smiles and unpretentious service.
A 14th century Manor House, nestling in the beautiful Sussex Downs. Surrounded by 4 acres of landscaped gardens.
A superb small Restaurant with Rooms set in its own gardens on the banks of the river Nith, one of Scotland's great yet little known salmon rivers and with extensive views across Scotland's Southern Upland Way.
We offer high quality accomodation in a stunning quiet setting on the hillside overlooking the Derwent Valley with panoramic views of Belper mill town. Luxury double suites/rooms with extras, all ensuite. Spacious and stylish.
Our bed & breakfast in Matlock, Derbyshire, offers the best in luxury accommodation, 4-poster & king-sized beds, family rooms, all en-suite with parking and wi-fi is provided
Set in mature grounds, with panoramic views across open farmland reaching down to the Solent and the Isle of Wight beyond, this lovely early 1900's rectory offers a chance to unwind in superbly comfortable and tranquil surroundings.
Once an 18thC farmhouse now a fine country hotel. Old world lounge bar. Log fires in winter. Beautiful restaurant with fresh food. Family owned and run.
A family-run country house hotel on the edge of the North York Moors. In the peaceful backwater of Lastingham.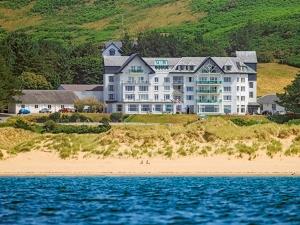 Located half a mile from the picturesque harbour village of Aberdovey, with panoramic views of Cardigan Bay. Relax in comfort and enjoy fine food complimented by friendly service. Lift & indoor swimming pool. Families of all ages welcome.